BRIVIA GROUP AND TIANQING GROUP START CONSTRUCTION OF THE QUINZECENT
Montréal, March 21, 2019 – Mr. Kheng Ly, President and Chief Executive Officer of Brivia Group, Montréal's fast-growing property developer and investor, and the Tianqing Group today held a ground-breaking ceremony marking the start of construction of the QuinzeCent. Located at the intersection of René-Lévesque Boulevard West and Guy Street, the QuinzeCent will have 36 floors and welcome its first residents in 2022.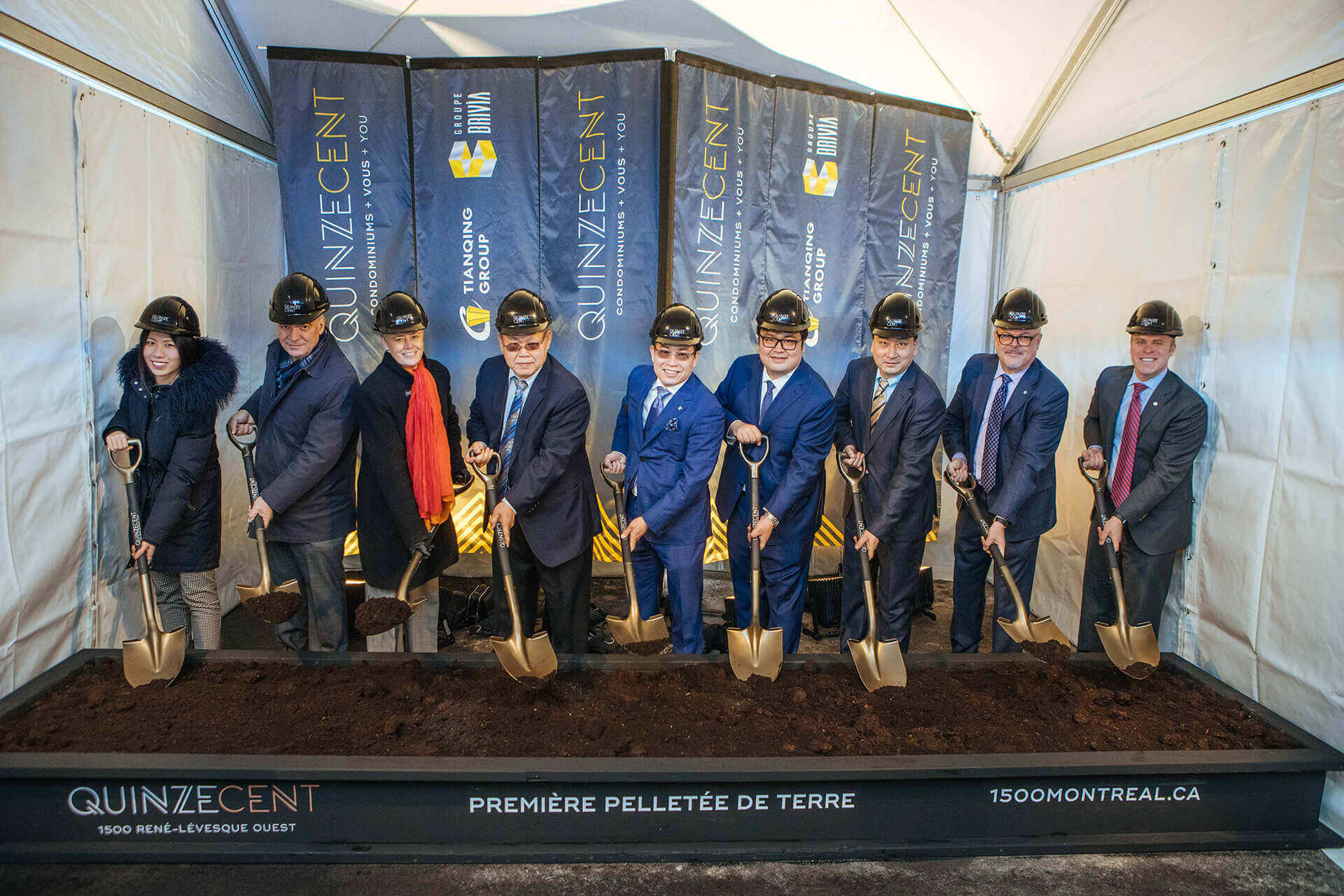 "With more than 50% of the units of The QuinzeCent already sold, Brivia Group is executing its fourth major project in downtown Montréal in less than five years and helping to develop an area that has long been neglected by the real estate sector," said Kheng Ly. "Located between the river and mountain, the iconic glass tower will offer an exceptional lifestyle."
The QuinzeCent will feature 428 condo units including microcondos, 1 to 3 bedrooms and penthouses. Residents and visitors will be greeted in a magnificent all-glass lobby that will also double as a socializing and working space, fostering a community spirit close to the developer's heart.
Owners will also have access to an indoor pool, a steam room, a sauna, a common garden with an outdoor fireplace, a cinema space for movie projections, a lounge space with a kitchen for private events, as well as a high-end fitness centre. There will also be commercial spaces on the lower floors and private access to the parking lot.
"We are excited about continuing to work with the dynamic Brivia Group," said Han Qing, President, Gansu Tianqing Group Real Estate Co., the parent company of Tianqing Investment Group. "The QuinzeCent is a unique project located close to two major universities, has great market appeal, and will certainly attract interest."
The QuinzeCent's architectural concept has been assigned to globally recognized Menkès Shooner Dagenais LeTourneux architectes, the architecture firm that was also responsible for the YUL Condominiums.
About Tianqing Investment Group
Tianqing Investment Group is the Canadian subsidiary of Gansu Tianqing Group Real Estate Co. Ltd., the largest real estate company in Gansu Province of China. Founded in 2000, the company has seen 18 years of rapid growth and now has projects in 11 cities across China, including Beijing, Shanghai, Shenzhen, Suzhou and Zhuhai, as well as in the United States and in Canada. It has over 2,000 employees globally and creates about 10,000 jobs annually. It has received many recognitions and awards in China and ranks among the country's Top 500 real estate companies. QUINZECENT will be Tianqing's third project in Montréal, a city which is of strategic importance to its overseas expansion.
About Brivia Group
Founded in Montréal in 2000, Brivia Group is a real estate development and investment group with a growing number of projects in the region. Its subsidiary, Brivia Management, is an integrated, professional services firm specialized in development management.
About Menkès Shooner Dagenais LeTourneux Architectes
Menkès Shooner Dagenais LeTourneux Architectes is one of Canada's largest architectural and design firms. Having completed projects in the institutional, corporate, cultural and residential sectors, the firm is now a reference in the design, building and management of projects. It relies on an experienced team of more than 115 professionals and is recognized for the excellence of its approach and its vitality in designing innovative and creative architectural solutions.
Follow us: https://www.facebook.com/1500Montréal
-30-