YUL CONDOMINIUMS STARTS CONSTRUCTION ON ITS 2ND TOWER
MONTRÉAL, October 18, 2017 –  YUL Condominiums, one of the largest residential projects in downtown Montréal, today held an official ceremony marking the start of construction work on its second 38-storey tower. Located at 1400 René-Lévesque Boulevard West, this second tower will be an integral part of the project being co-developed by the Brivia Group and the Tianco Group.
"The construction of our second tower is a major milestone in our project and we are proud that coincides with the festivities marking the 375th anniversary of Montréal," said Kheng Ly, President and CEO of Brivia Group and YUL Condominiums. "While changing the face of downtown, its construction will help revitalize the neighbourhood and position YUL as one of the most prestigious addresses in Montréal."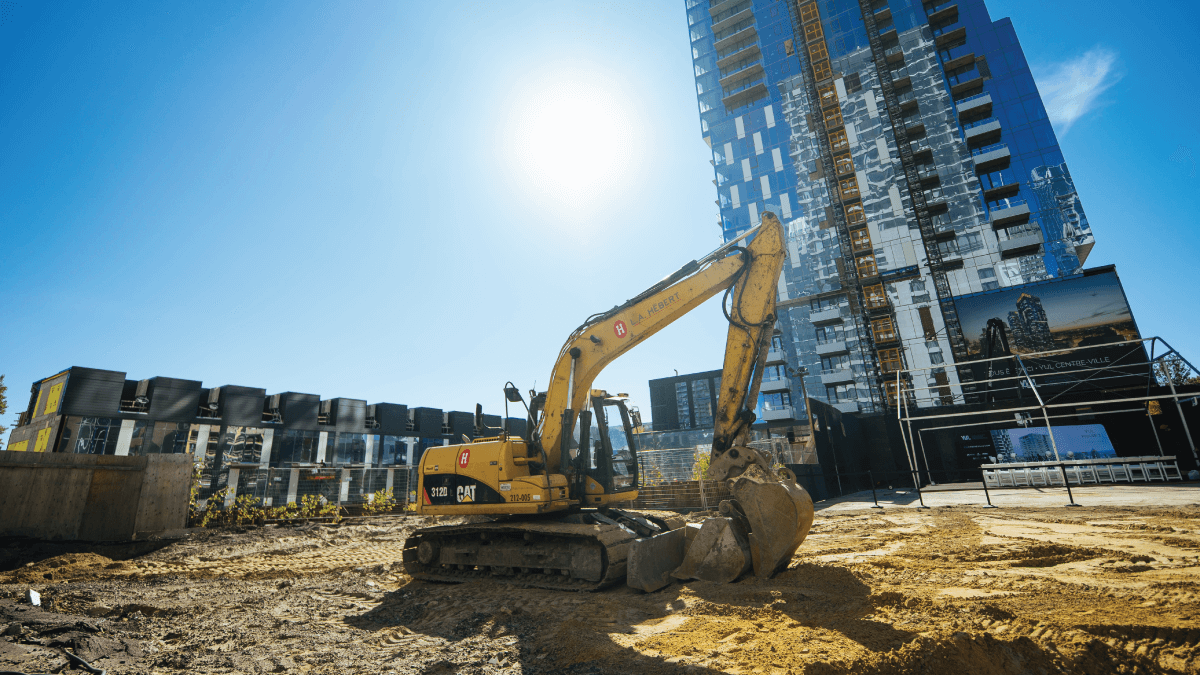 "We are very proud to have been able to start construction of the second tower of YUL Condominiums so quickly," added Steve Di Fruscia, CEO of the Tianco Group. "This is an important project for the international expansion of our parent company, Gansu Tianqing Real Estate Group, founded by its visionary Chairman Mr. Qing Han."
The second tower will feature a large two-storey, fully-glazed entrance hall and a lounge and terrace on the 6th floor overlooking a 23,000-square-foot private garden. It also has multi-purpose rooms for events and a fitness room. Like the first tower, all common areas will be furnished by Armani/Casa. Residents of Tower 2 will have access to all the amenities of Tower 1 (spa, indoor pool, garden, Sky Lounge and fitness room). The second tower will welcome its first residents starting in 2020.
YUL 2 has been attracting buyers' attention since marketing began in March 2017. According to a report published by the Altus Group in June, YUL 2 ranked first among the best sellers in Montréal in the first quarter of the year.
The YUL project includes two 38-storey residential towers and 17 townhouses. The two towers have more than 800 units including studios, 3 ½, 4 ½, 5½, and penthouses. Occupants of Tower 1 have been gradually taking possession of their units since September.
The architecture firm Menkès Shooner Dagenais LeTourneux, in collaboration with Stefano Domenici Architect, has developed a unique structural concept for YUL which significantly sets it apart from numerous other projects. YUL Condominiums is also proud to join forces with Magil Construction for the actual construction.
For more information, visit yulcentreville.com or the sales office located at 1400 René-Lévesque Boulevard West, near Mackay St.
Facebook : https://www.facebook.com/YULCentreville/
Instagram : https://www.instagram.com/yulcentreville/
Twitter : https://twitter.com/YULcentreville
About YUL Condominiums
A large-scale architectural project co-developed by the Brivia Group and the Tianco Group, YUL Condominiums Inc. comprises condominiums and townhouses. Located in downtown Montréal, it includes two 38-story towers built in "shifted blocks" with more than 800 units and 17 townhouses.