DIVING PLONGEON CANADA, PROUDLY SPONSORED BY YUL CONDOMINIUMS, UNVEILS NEW BRANDING
On February 21st, 2019, Diving Plongeon Canada (DPC), proudly sponsored by YUL Condominiums, unveiled the federation's new brand identity, which expresses itself through the bilingual tagline "WE FLY | PLUS HAUT". The logo, which continues to feature the iconic maple leaf, was inspired by the peregrine falcon.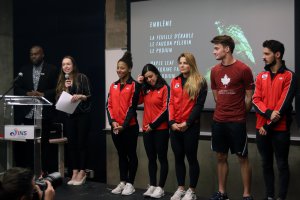 "Canadian divers are largely recognized for their incredible athletic performances and spectacular international results for decades now. With just eighteen months left before the Tokyo 2020 Olympic Games, it was essential for us to adopt a visual identity that would reflect the accomplishments of our team and federation," says Penny Joyce, Chief Operating Officer at DPC.
DPC also took the opportunity to announce the renewal of their partnership with Brivia Group, a Montreal-based real estate developer. After the initial one-year national team sponsorship through their downtown project YUL Condominiums in 2018, Brivia Group decided to extend their support through to and beyond the 2020 Olympic Games.
"We look forward to working closely with Diving Plongeon Canada for another great three years. We are honoured to have the opportunity to contribute to the Canadian Diving Team to go further and reach new heights on the international stage," says Kheng Ly, CEO and President of Brivia Group.
~~~
2019 INTERNATIONAL SEASON
Members of the Canadian Team who will compete at the first two legs of the FINA Diving World Series in Sagamihara (JPN, March 1-3) and Beijing (CHN, March 7-9), joined the federation during the announcement to share their excitement.
Diving fans will get to see the federation and the national team's new look come to life from April 4th to the 7th during the 2019 FINA Diving Grand Prix in Calgary (Repsol Sport Centre) and from April 26th to the 29th during the 2019 FINA Diving World Series in Montreal (Olympic Park's Sport Centre).
Selected members of the national team will then travel to Kazan (RUS, May 10-12) and London (GBR, May 17-19) to participate in the last two stopovers of the circuit. The season will culminate with the FINA World Championships in Gwangju (KOR, July 12-20) and the Pan American Games in Lima (PER, August 1-4), where Olympic berths will be at stake.