CURV, the tallest passive house in the world, to help accelerate Vancouver's path to net zero
Sales for CURV in downtown Vancouver will launch May 27
VANCOUVER, BC, May 9, 2023 /CNW/ – Today, the award-winning team behind CURV, a development by Canadian developer Brivia Group, were joined by industry professionals and partners of the project at a special event and ribbon-cutting ceremony to celebrate the official launch of the much-anticipated new residential tower, expected to break ground in 2024. At 60-storeys tall, CURV will be the tallest residential tower in downtown Vancouver and set records as the world's tallest passive house building, establishing a new benchmark for design and environmental performance as Vancouver marks a significant milestone in the pathway to net zero.
Passive House is an international energy-based standard considered to be the most rigorous in the design and construction industry today. Far ahead of the City of Vancouver's push for the carbon-neutrality of new buildings by 2030, CURV, the most energy-efficient structure of its kind, will meet expectations set for higher buildings in Vancouver to be developed with 50% less carbon pollution compared to already advanced requirements for rezoned developments, and up to 90% less carbon pollution compared to towers built in 2014.
"Brivia Group is committed to innovation and setting a new standard for both luxury and sustainable real estate development in Canada," said Kheng Ly, President and CEO, Brivia Group. "CURV is one of our most ambitious projects to date and when we embarked on this incredible journey, we knew we had to do it right with a team of leading professionals in a fitting and visionary city. CURV is a symbol for what is possible for future developments around the world, showcasing how buildings will help cities achieve their green goals through elevated sustainability, comfort and design. Along with our partner on CURV, Henson Group, we're proud to be contributing to the advancement of the industry."
Casting eyes for generations to come with CURV's unique and elegant design and ethos, the award-winning team behind the project includes world-renowned British architect, Tom Wright, best known for his design of the iconic Burj al Arab in Dubai, and celebrated architectural designer Andrés Escobar from , L'Atelier Bespoke Masterpiece,in collaboration with design studio Lemay_id. Both were in Vancouver today to commemorate the significance of CURV.
"CURV will be a trailblazer, setting a global standard for what's achievable with Passive House.  I am truly excited to see the positive impact this high performance, decarbonized building design will have on its occupants, the city of Vancouver – and indeed, the building industry everywhere. I look forward to a time when every high-rise that comes after CURV strives to emulate its success," said Chris Ballard, CEO of Passive House Canada.
The CURV presentation gallery, located on 510 Burrard Street, Vancouver, will officially open its doors to the public on May 27, 2023, and it is currently booking private tours by appointment.
Learn more or book a viewing at www.thecurv.ca.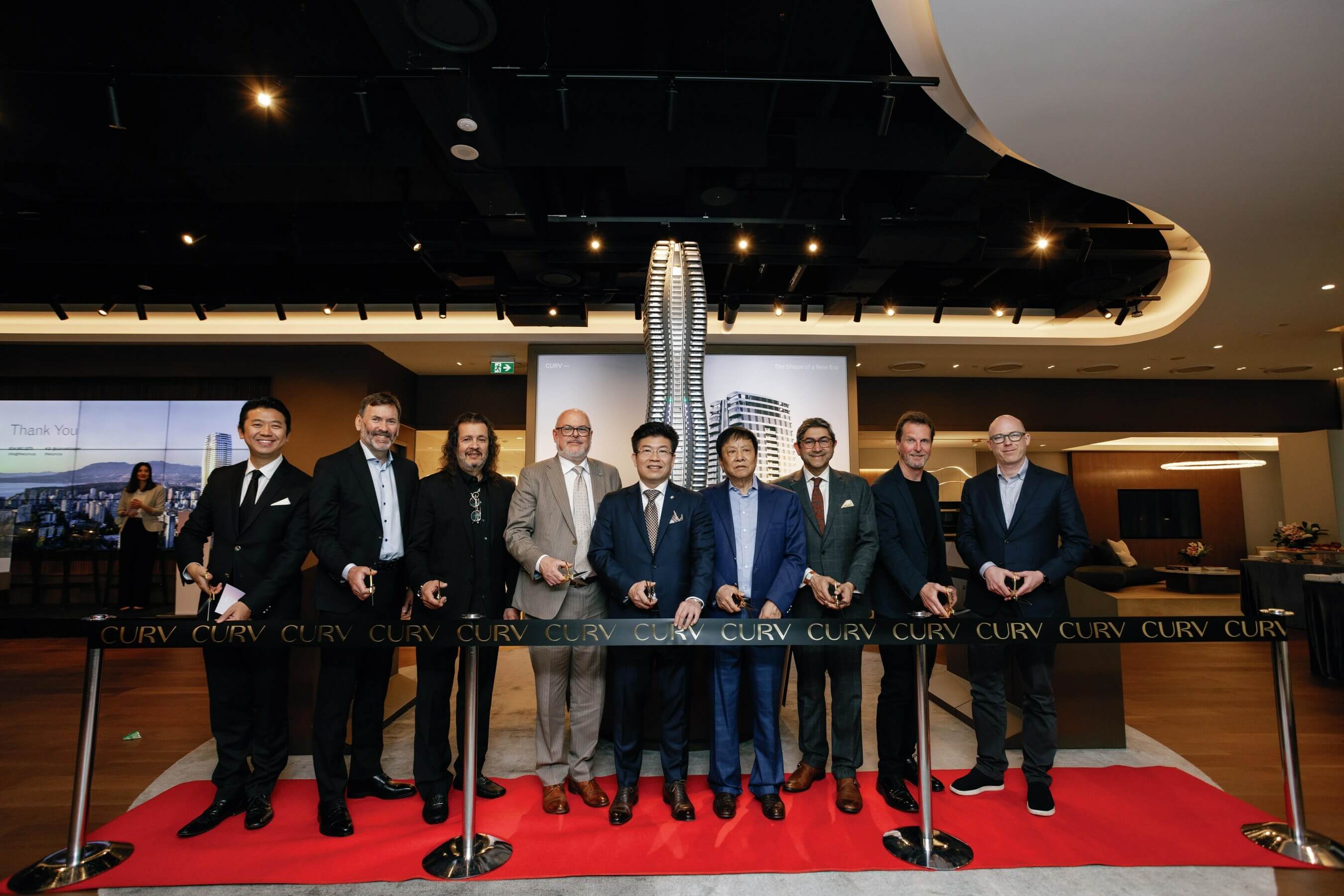 From left to right: Jacky Chan, BakerWest, Doug Mcfarlane, ITC Construction Group, Andrés Escobar, L'Atelier Bespoke Masterpiece, Mike Beg, Real Estate Finance, BMO, Mr. Kheng Ly, Brivia Group, Mr. Xuexin Liu, Henson Group, Pehlaj Malhotra, HSBC Bank Canada, Tom Wright, WKK Architects, Gwyn Vose, Acardis (CNW Group/Brivia Group)
About Brivia Group
Brivia Group is a real estate development and investment company with an expanding portfolio of major projects in Greater Montreal Area, Greater Toronto Area, Vancouver, Quebec City and other regions of Quebec province. Founded in 2000, Brivia Group has the expertise, track record and business networks needed to fulfil bold projects such as Curv, 1 Square Phillips, Mansfield, YUL, QuinzeCent and LB9, meeting the expectations of its diverse clienteles.
About Henson Group
Founded in 2015, Henson Group is a real estate development and investment company in Greater Vancouver.  Henson's Founder, Mr. Xue Xin Liu, is committed to pushing the limits of engineering and architecture to create extraordinary living spaces. Along with its partner Brivia Group, Henson's current priority is to develop CURV in downtown Vancouver and another major real estate development project in West Vancouver.
Source: Brivia Group